This electrical and electronics technology program is designed to provide training for persons interested in the installation and maintenance of electrical and electronic systems found in residential, commercial, and industrial facilities.This course is available in AIRADS College.
Training, most of which is hands-on, will include such topics as AC/DC theory, basic wiring practices, digital electronics, programmable logic controllers, industrial motor controls, National Electric Code, and other subjects as local needs require.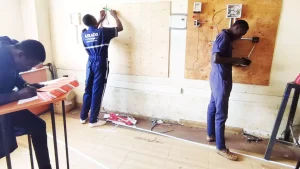 Students who graduate from this course should qualify for a variety of jobs in the electrical/electronic field as an on-the-job trainee or apprentice assisting in the layout, installation, and maintenance of electrical/electronic systems.
Upon successful completion of this program, students should be able to:
Demonstrate the ability to apply laws to the design, construction, analysis, and measurement of electric, hydraulic and pneumatic circuits.
Interpret and develop technical drawing, schematics and diagrams.
Apply electrical/mechanical laws to the operation and control of machines.
Apply critical thinking skills to solving problems.
Career prospects:
Electrician,
Service technician
Repair technicians
Progression path:
Craft Certificate in Electrical and Electronics Technology
Progresion to Diploma
Apply now for this course in African Institute of Research and development studies.