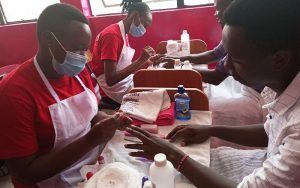 AIRADS College College is  an  accredited TVET institution committed to the development and delivery of innovative, best  quality and affordable  education systems for the Hair and Beauty Industry. The courses we offer in the school of Cosmetology (Beauty & Hair dressing)  have been carefully designed to give you the edge in the Cosmetology Industry and to be a successful professional. We have the best Saloon and Hair dressing Workshops designed for better training.
Cosmetology is the professional skill or practice of beautifying the face, hair, nails, and skin. It's the most marketable course as it offers a combination of both hairdressing and beauty therapy courses. This program prepares you for an exciting career in skin care and as a hairdresser.
No matter your skill level or capability, AIRADS College  has a colouring class to suit your needs. Whether you're looking to better your blonde, compliment your coppers or brush up on your brunettes, our world-class team of educators will harness your talent and grow your skills.
Join us today and be guaranteed of the best competency based training as per TVETA Acts and policies. Below are of the courses offered at African Institute of Research and Development Studies-AIRADS College.
SCHOOL OF BEAUTY AND HAIRDRESSING
1. Hairdressing and Plaiting
2. Beauty Therapy
3. Cosmetology (Beauty Therapy and Hairdressing)
4. Barbering
5. Nail Technology
6. Massage/ Reflexology
7. Lash Tinting & Perming technology
MAY  2023  INTAKE IN PROGRESS
HOW TO APPLY
1. Call/SMS, WHATSAPP, to any of the following admissions lines. ELDORETCampus-0715-696-979, NAKURU Campus – 0711-488-302, KERICHO Campus- 0729-976-885, KISUMU Campus- 0715-505-262, BUNGOMA Campus- 0715-771-316
2. Apply online on our website www.airads.ac.ke
3. Use Facebook inbox (Messenger)
4. Visit our ELDORET Town Campus –Located at Institute Plaza 3rd Floor- Oloo Street, Next to KPLC Commercial Office.- Eldoret Town
5. Visit our KERICHO Town campus located ACK BUSINESS PARK Building -2ND Floor Along Kericho –Nakuru Highway, Next to Ndege Chai Buliding –Keircho Town
6. Visit our NAKURU Town Campus located at TradeWorld Buidling 2nd Floor, Opposite Prestige Mall, along – Kijabe Row – Nakuru CBD
7. Visit our KISUMU CITY Campus located at TOM Mboya Estate- Next to Marrie Stoppes,
8. Visit our BUNGOMA Town Campus located at College House – 3rd Floor – Opposite Bungoma Main Stage- Bungoma Town
9. Visit our LODWAR TOWN Campus Located at AIC Building –Opposite –Tilak Hardware-Lodwar Town
Find Your Preferred Courses
Campuses Offering the Course
Eldoret Town Campus
Nakuru City Campus
Bungoma Town campus
Kisumu City Campus