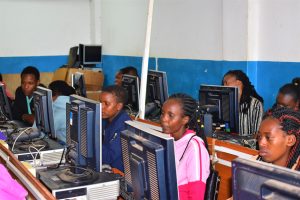 Computer packages are the basic skills on learning a computer.COMPUTER : is an electronic device or set of device that works under control of installed programs. It accepts raw data from outside; it processes the data so as to give out information.AIRADS College is the best college to offer 14 computer packages and advanced packages that are aimed advancing your career.Join us for the special offer for the computer packages across our Campuses.
COMPUTER PACKAGES
Introduction to computers
keyboarding
Microsoft Windows /operating system
Word processing using MS word
Spreadsheet using MS Excel
Database Management using MS Access
Digital Presentation using MS PowerPoint
Internet and Email
Introduction to graphic design (using Publisher and adobe PageMaker)
Social Media and Digital Skills
Software installation
Basic computer repair and maintenance
Formatting and printing skills
PC troubleshooting
REQUIREMENTS
Qualifications: open
Course duration: two (2) months
ADVANCED PACKAGES
Advanced Photoshop 4,000/=
Advanced Corel draw 4,000/=
Advanced Graphic Design 6,000/=
Certificate in web design 10,000/=
ACCOUNTING PACKAGES
Quick Books 4,000/=
Sage 4,000/=
Pastel 2,500/=
Tally 4,000/=
STATISTICAL PACKAGES
SPSS 6,000/=
Stata 6,000/=
R test 10,000/=
PROGRAMMING LANGUAGES
Visual programming using visual basic 4,000/=
Object oriented programming using C/C++ 4,000/=
Database programming using SQL 4,000/=
INTERNET PROGRAMMING LANGUAGES
Java Script 3,000/=
PHP 3,000/=
PYTHON 3,000/=
C# 3,000/=
WHY STUDY COMPUTER PACKAGES?
Competition
Computers are used in nearly every facet of business. In order to be competitive for career opportunities, a lack of understanding about how a computer works is not an option.
Knowing that they possess the skills needed to utilize computer technology builds students' self-esteem and encourages them to continue learning and bettering themselves.
The numerous tools available for use on computers, such as word processors, spreadsheets, and graphic creation software, will not only help students in any future career they pursue, but will also help them get there by being organized and able to work more efficiently than their counterparts who do not have computer abilities.
Students who understand the workings of an online world will be able to collaborate with their peers on school projects. This skill will also serve them well when they enter the workplace.
Electronic communication, such as email, is a staple of modern society. A student lacking these skills is at a severe disadvantage to those who possess them.